Nice video from Scientific American on how Denial of Service (DoS) and Distributed Denial of Service (DDoS) attacks work …

Google and Arbor Networks have created a Digital Attack Map to show Distributed Denial of Service (DDOS) attacks in real time.  The release of the map comes at the same time as Google's release of its Project Shield using Google's "attack mitigation technology." The service is currently invite-only.
Because DDOS attacks are often politically or ideologically motivated, Google intends the tool to be used to assist with protection of freedom of expression.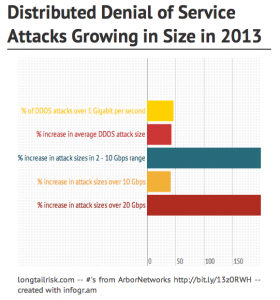 Jeff Wilson with Infonetics Research suggests that attack motivations include:
politically motivated

state-sponsored electronics warfare

social activism

organized crime

general mischief
more than 2500 DDOS attacks per day

over 1100 botnets active as of end of July

duration of attack trending down — 86% < 1 hr
Network Computing suggests that reasons for increased attack size stem from:
increased capability of hosts (faster computers)

many more highly effective botnets are active 

businesses have higher capacity, so attacks need higher capacity in order to execute an effective DDOS attack