To paraphrase REM, whether Heartbleed is the end of the world as we know it (11 on a scale of 10) or if we feel fine (or at least not much different), how our vendors respond or don't respond gives us the opportunity to learn a little more about our relationship with them.
I've only seen one unsolicited vendor response that proactively addressed the Heartbleed discovery. In effect, the email said that they (the vendor) knew there was a newly identified vulnerability, they analyzed the risk for their particular product, took action on their analysis, and communicated the effort to their customers. This was great. But it was only one vendor.
Other vendors responded to questions that I had, but I had to reach out to them. And from some vendors, it has been crickets (whether there was an explicit Heartbleed vulnerability in their product/service or not).
Ostensibly, when we purchase a vendor's product or service, we partner with them. They provide a critical asset or service and often an ongoing maintenance contract along with that product/service. The picture that we typically have in our heads is that we are partners; that we're in it together. Generally, that's also how the vendor wants us to feel about it.
What does it mean then, if we have little or no communication from our 'partner' when a major vulnerability such as Heartbleed is announced? Where this is the case, the partner concept breaks down. And if it breaks down here, where else might it break down?
Because of this, we can use the Heartbleed event to provide a mechanism to revisit how we view our vendor relationships. A simple table that documents vendor response to Heartbleed could give us broader and deeper perspective into understanding our vendor relationships.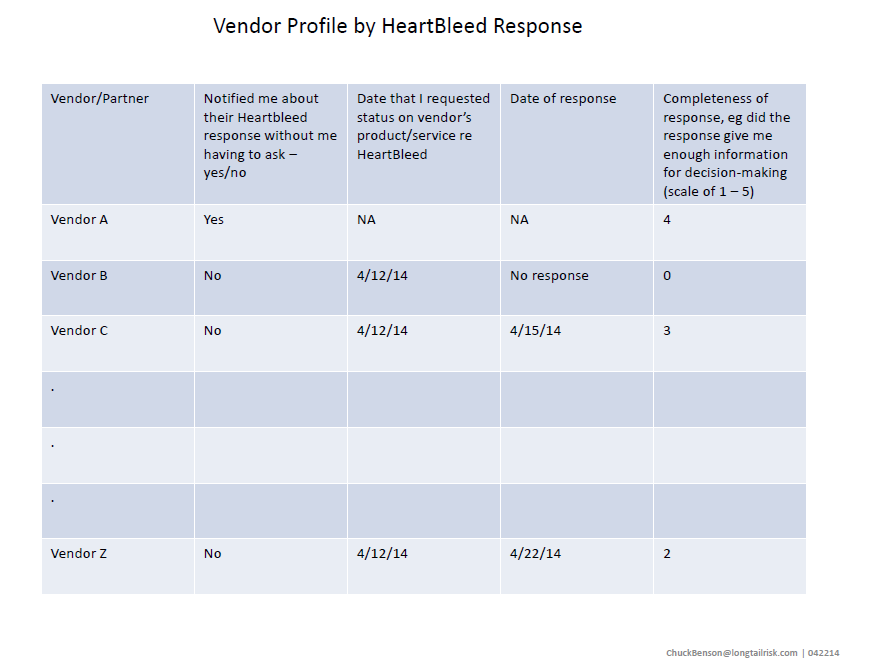 For this example, because of their quick communication that did not require me to reach out, I might send a thank you email to Vendor A to further tighten that relationship . Vendor C and Vendor Z are in the same ball park, but I might want to follow up on the delay.  I'll definitely be keeping Vendor B's complete lack of response in mind the next time the sales guy calls.
Again, some vendor responses might be great. However, I think vendor and partner relationships aren't as tight as we may like to tell ourselves and we can use vendor customer response to Heartbleed as an opportunity to reflect on that.
[Heartbleed image/logo: Creative Commons]
Some Heartbleed vendor notifications from SANS